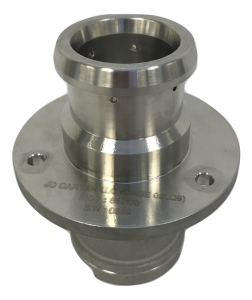 The receptacle installs on the vehicle tank allowing a quick one-motion mating for a simple, secure operation. The receptacle is designed to couple with JC Carter's 50 GPM Nozzle.
This product has R110 Certification
SPECIFICATIONS & KEY FEATURES
Fluid compatibility: LNG, LN2, Methane
Max Working Pressure: 500 PSI (3.48 MPa)
Process connection: 3/4-14 NPT Female Port
Operating temperature: -320°F to +185°F (-195.56°C to +85°C)
Nominal flow: 50 GPM at ≈15 PSI differential
Burst pressure: 2000 PSI (13.79 MPa)
Weight: ≈3 lbs
Storage temperature: -60°F to +120°F (-51.1°C to 48.89°C)
The 50 GPM Nozzle can be used on many different applications in the commercial transport.